Interview with London Accessory Week exhibitor Saeits- glamorous by Wephies- frenchies | London Accessory Week by X Terrace
We design and sew cute and adorable frenchie diapers for my brand.
How and when did you start your accessory brand?
As a breeder, I have had a need for diapers when my females have their heat cycle. I also have guardian/caretakers of some of my female frenchies inquire of what I use, or suggestions on what to use during the heat cycle. I had some extra time at the beginning of Covid so I thought, why don't I make my own diaper pattern, something a little different from the norm, cute and comfortable. Plus, I wanted to give my French bulldogs a diaper that I personally made.
What are your sources of inspiration?
My sister makes beautiful quilts and introduced me to some lovely brands and designers of quilting fabrics. They make the cutest quality clothes for frenchies!!!! As I started making diapers, I got compliment after compliment on how cute and comfortable my design was. This was so inspirational to continue. Everyone loves how they fit and stay in place on their dogs.
How would you describe your design/product concept?
As a breeder it is important to have a comfortable "diaper/britches/suspender pant" for your female/dame. It is somewhat a one size fits all female frenchies, no tail hole, pair of "dundees". It is handmade by me and comes highly recommended by all of my users! They use it for their dogs in heat, for travel, incontinence, or just to look chic. I use elastic in the suspenders and hook and loop around the waist so they are adjustable. I make them mainly for Frenchies and English Bulldogs, however they can work on other non tail breeds.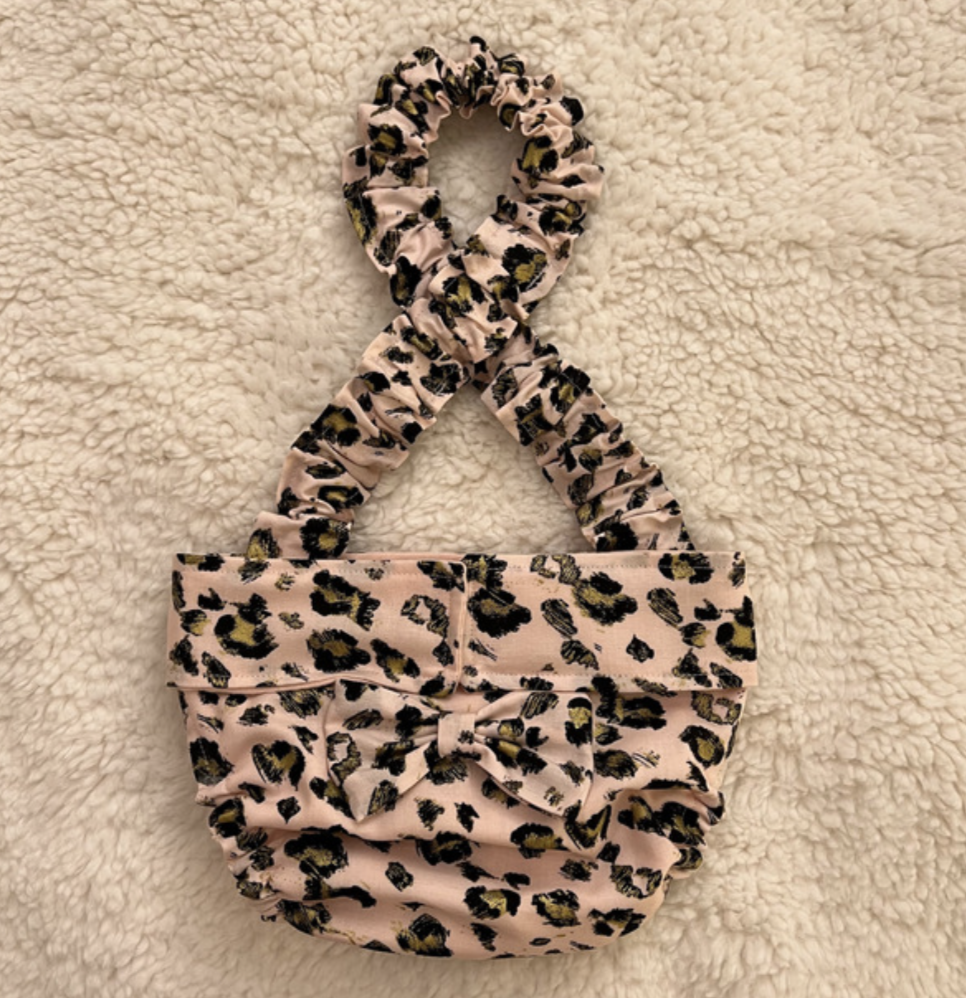 Why do you do what you do? What do you like about your job?
Positive feedback from my husband, fellow breeders and friends have been what has motivated me to continue. As a child one of my dream jobs was to be a fashion designer so I love that I can design a different diaper for all kinds of tastes. Sewing can absorb your attention and take you away from other stresses (well when your sewing machine is working properly, ha). They are each handmade and take a couple hours to make. It actually started as more of a personal hobby, but now enjoy the smiles on the many faces of those that either sent in pictures of their fur baby in my product and all the positive reviews I have received.
Do you have a signature style? Tell us more about your most popular designs.
My diapers' suspenders slip over the head without the need for more velcro adjustment which can get frustrating putting on and taking off a diaper a few times a day. I suggest taking off the diaper while they potty outside and putting it back on with a pad or liner inside. Using the pad or liner helps keep them dry and less washes. Who is the target audience for your products? Currently, I make diapers for dogs with no tails only. French bulldogs and English Bulldogs have been my biggest customers.