Interview with London Accessory Week exhibitor MHYK| London Accessory Week by X Terrace
MHYK is a small luxury brand with two Kollections per year that focus on custom high heels for the everyday glamorous being.
Tell us a little about you and your brand. Who are you, and what products do you design for your brand?
My name is Ashanti, and I am from Connecticut. Ever since I was a little girl I would love to dress up, get my hair and nails done, and put together outfits. My mom put an emphasis on making sure my clothes were coordinated from colors, patterns, and fabrics and my love for fashion blossomed from there. My brand MHYK is an extension of my love for fashion but more specifically high heels. I design custom made high heels with my Kollections (I spelled collections with a K on purpose, it's a part of my brand). Releasing twice every year. My products vary from boots (ankle, and knee highs), platforms, stilettos, and sandals, with my signature shoes being platforms at an affordable price.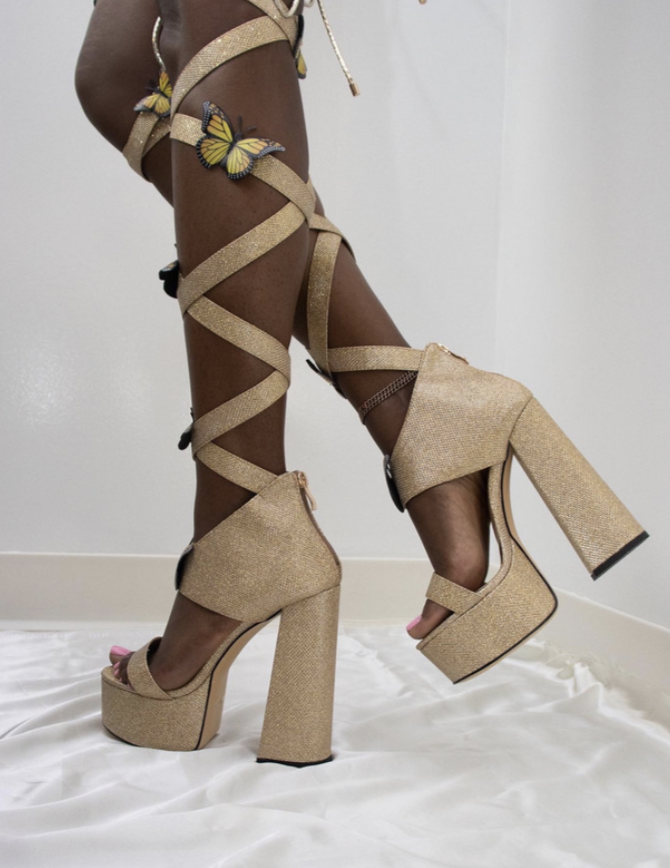 What are your sources of inspiration?
As cliché as it sounds my source of inspiration comes from my imagination. All of my designs stem from me imagining myself out and about and somebody walking up to me saying "wow, I love your shoes, where did you get them?" (as I'm sure that is all designers dream lol). But being able to have people wonder about my designs and eventually know my name fuels my imagination which continues to inspire me. Imagining things that most people would consider to be unattainable is what adds to my inspiration as well.
Designer & Runway Accessories Boutique
Designer & Runway Accessories Boutique
Do you have a signature style? Tell us more about your most popular designs.
I would classify my style as glamour. Glitter, bright colors, and height all go into my styles when I am designing my shoes. My signature style consists of platforms and bright colors (neon colors, bright patterns, and distinct fabrics) with a bit of glam is how I would describe my style. My most popular style to date would be my "Butterfly platforms'. A 4 inch, thick sole and thick heel, with a shimmery gold fabric around the heel. It is an open toed shoe (great for the summer) with 3-d butterflies along the straps. The straps are also 18inches that wrap along the legs ending at the bottom thigh.
Who is the target audience for your products?
I don't like to describe my target audience by age but more by style. My target audience is centered towards the everyday being, that is not afraid of everyday glamour with a splash of color and height (once again lol). I design my shoes for people that want to enjoy a night out or a casual outing with friends and family. When you wear my shoes (men and women) I want it to feel like you are putting my shoes on to go to a party every day!!
Which of your designs is your favourite? Can you tell us the story behind it?
My favourite design would be my Pink Glitz Bootz. They were the first design that I ever created from creating the sketch, to picking the fabric, to helping with the shoe size. With this design, I was able to see my creation become a reality. I actually always had this design in the back of my head since high school, so I consider it to be my baby and a reflection of me turning my dreams into reality. I consider myself to be a glamorous woman, from shine, glitter, to pink these are all attributes of myself but in fashion.